Questions to Ask Before Buying a Home
Whether you're a first-time homebuyer or a seasoned pro, buying a home is a big deal. It's easy to fall so in love with a house that you lose sight of the more practical questions you should be asking: does it have a termite infestation? Will the ceiling leak every time it rains? Are the HOA dues extremely high?
Sometimes it can feel like everyone around you has something to say when it comes to buying a home. While your family and friends most likely have your best interests in mind, they may also be missing crucial information about today's housing market that you need to make your best decision.
That's where a seasoned professional comes in!
Before you decide whether you're ready to buy a home and meet with a real estate professional, you should know how to answer these questions.
1. Budget
The biggest question, the only thought to have before you even start on your home buying journey, should be: BUDGET! When you buy a new home, you're investing even more than your life savings. You're borrowing tens of thousands of dollars, or hundreds of thousands of dollars, in the form of a mortgage you'll be paying off for thirty years. So knowing how much you can afford is KEY.
Also, before buying a home, don't forget to ask about heating, cooling, electric, and internet costs! (And water, sewer, trash, recycling, etc.) To make sure a house will truly fit into your monthly budget, it's essential to understand what utilities cost in a typical month.
2. What's Going on with Home Prices?
Home prices are one factor that directly impacts how much it will cost to buy a home and how much you stand to gain as a homeowner when prices appreciate.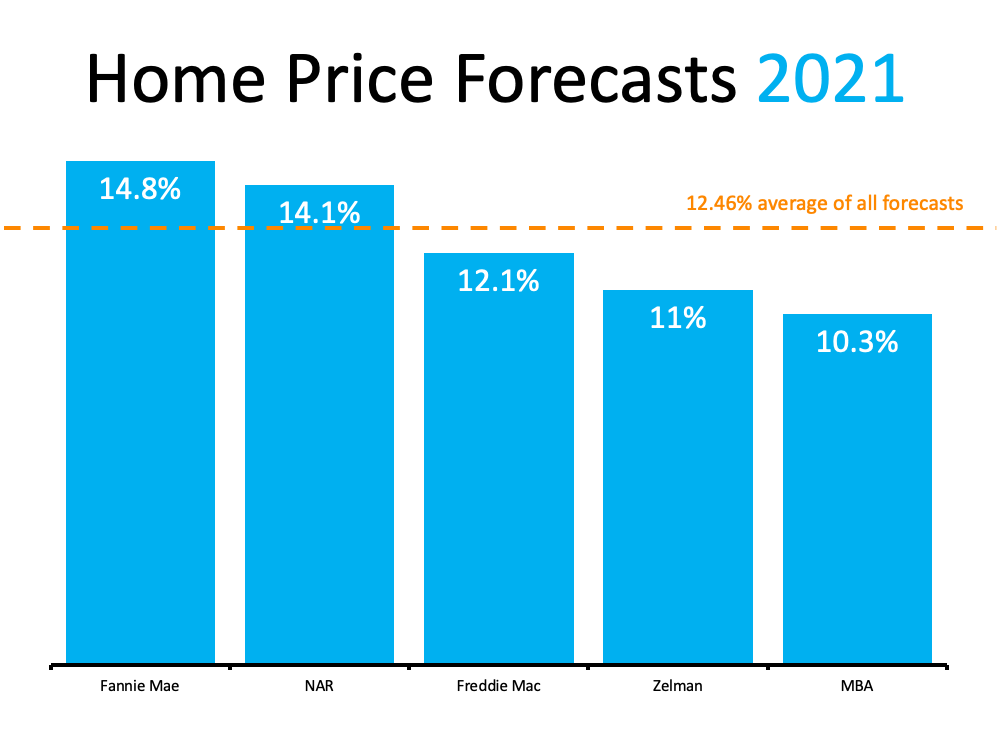 The graph shows just how much experts are forecasting prices to rise this year: Continued price appreciation is great news for existing homeowners but can pose a significant challenge if you wait to buy. Using these forecasts, you can determine just how much waiting could cost you. What does this mean for you? Put simply, with home prices increasing, the longer you wait, the more it could cost you.
3. Know your Target Area.
In real estate, you often hear that it's all about "location, location, location." Homes in desirable areas are worth more than similar homes in locations that are not so desirable. You don't want to buy a home in a bad location, because reselling it will be difficult.
How good is the school district? Is it ranked nationally or locally?
How close are the nearest hospitals, stores and other common services?
Are there any local nuisances to be aware of, like constant construction or traffic, train tracks, or areas where police must patrol regularly?
Is there a HOA (homeowners' association) that requires membership and regulates home design and improvements?
How long is the commute to the nearest major city?
Real estate agents can help you find out all the important information in various ways. From their personal experience and knowledge or with help from their Title Reps. They can pull up all the information or they can get in contact with neighbors to get all the answers for you.
4. Why Is Homeownership Important to You?
The final question is a personal one. Before deciding, you'll need to understand your motivation to buy a home and why homeownership is an important goal for you. The financial benefits of owning a home are often easier to account for than the many emotional ones.
The 2021 National Homeownership Market Survey shows that six of the nine reasons Americans value homeownership are because of how it impacts them on a personal, aspirational level. The survey says homeownership provides:
Stability
Safety
A Sense of Accomplishment
A Life Milestone
A Stake in the Community
Personal Pride
Clearly, there's a value to homeownership beyond the many great financial opportunities it provides. It gives homeowners a sense of pride, safety, security, and accomplishment – which impacts their lives and how they feel daily.
Homeownership is life-changing, and buying a home can positively impact you in so many ways. With any decision this big, it helps to have a trusted advisor by your side each step of the way. If you're ready to begin your journey toward homeownership, let's connect to discuss your options and begin your journey.